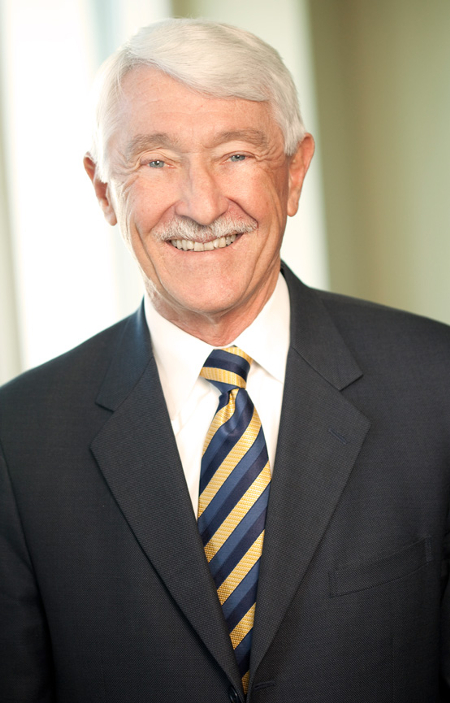 Bio
Robert Wesley Naylor has been involved in politics and public policy his entire adult life. Born in Reno, Nevada and raised in Las Vegas, Naylor earned his AB from Stanford University in l966 and his J.D. from Yale Law School in 1969. At Stanford he was editor of The Stanford Daily and earned Phi Beta Kappa honors.
Naylor was admitted to the California Bar in 1970 and served as a Lieutenant in the U.S. Army for two years, with a tour in Vietnam. In 1975 Naylor was co-executive director of the Vietnam Orphans Airlift, during the last months before the fall of Saigon. After returning from Vietnam, Naylor was an attorney with Pillsbury, Madison and Sutro, specializing in political and tax law.
He was elected to the State Assembly in 1978 from a district in San Mateo County, serving 8 years. Naylor was Assembly Republican Leader from 1982-1984, which included negotiating the budget in the last year of Governor Jerry Brown's previous term. During his tenure as Assembly Republic Leader, Naylor helped lead the fight for fair redistricting, helped craft legislation tying increased funding for public education with education reform measures, and pushed for pro-growth economic policies and a balanced state budget without tax increases.
After he left office in 1986, Naylor served as chairman of the California Republican Party from 1987 -1989. He presided over efforts to carry California in the 1988 Presidential election, which proved to be the last time the Republican ticket has carried California. Naylor has served on the California delegation at ten Republican National Conventions.
In 1991, President George H.W. Bush appointed Naylor to the Board of Trustees of the James Madison Memorial Fellowship Foundation, where he served from 1991-1995 with co-chairmen Senators Ted Kennedy and Orin Hatch. He has also served as chairman of the Civil Justice Association of California and has been on its board of directors since 1988. Naylor was a founding director of Calnet Business Bank in Sacramento and for 20 years has been Vice Chair of the Leland Stanford Mansion Foundation.
In 1986, Naylor joined the law firm of Nielsen, Merksamer, Parrinello, Mueller & Naylor as a partner, specializing in government law, legislative lobbying and regulatory and procurement matters in the executive branch. Naylor left the firm after 24 years to establish his own California lobbying firm, Robert W. Naylor Advocacy, and to become Of Counsel to the law firm of Bell, McAndrews and Hiltachk, LLP.
Naylor resides in Encino, California with his wife Linda Kasem Naylor. They have 5 children from prior marriages and 5 grandchildren.